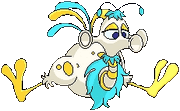 Mother Bird is an ancient creature belonging to the species Olchees. She is at least three million years old.
Mother Bird can be seen at the Intergalatic Zoo. Her favorite pastime is playing Egg Drop. ("Math Blaster ages 5-7")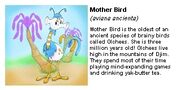 Ad blocker interference detected!
Wikia is a free-to-use site that makes money from advertising. We have a modified experience for viewers using ad blockers

Wikia is not accessible if you've made further modifications. Remove the custom ad blocker rule(s) and the page will load as expected.